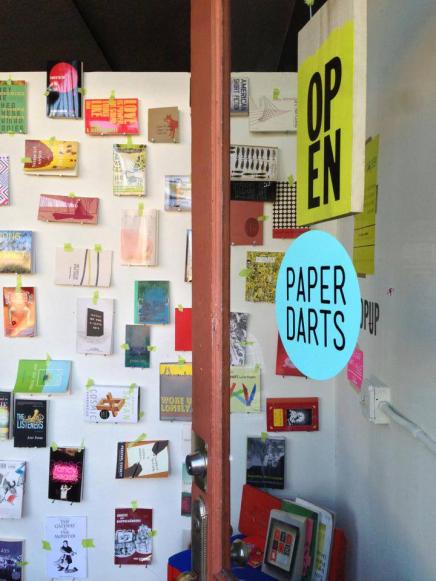 Last night, I had the opportunity to host a panel of guests involved in the video game industry as part of the Paper Darts Pop-Up series.
I use the word 'opportunity' quite deliberately, since the Paper Darts team is magically adept at connecting strangers in the arts community of the Twin Cities.
Game Informer's Tim Turi, Gravek's Matt Gravelle and McNally-Smith's Sean McMahon kindly fielded my questions and gave us all insight into the universe of video game music.
We filled the SooLocal space on Nicollet Avenue (30 chairs for more than 30 attendees), where the audience heard Tim, Matt and Sean talk about the impact of game music, how it's changed, why it's great and how it can get even better.
I was honored that Paper Darts invited a gamer like me to participate in the Pop-Up, considering their mission to expose art and literature in our community and beyond. But Jamie Millard, Courtney Algeo and Holly Harrison are gamers in their own right, and cannot be pigeonholed, a fact to which I attribute much of their success (which has been as impressive as it's been explosive).
Some highlights from the evening include Tim singing entire loops from 8-bit games (there's a recording floating around I intend to find), Sean explaining how baffled his California friends were that he'd move to Minnesota to continue work as a composer and Matt handing out tablets so audience members could try his new project, a game called "Strata".
The conversation touched on games as art, favorite game scores from different eras (8-bit, 16-bit and the present), and great film music that influenced game soundtracks of today. It was especially delightful discussing great games with terrible music and horrible games with amazing soundtracks.
The three panelists come from wildly differing backgrounds, and have equally differing involvement and roles within the game community. That diversity brought so much to the discussion, and I cannot thank Sean, Tim or Matt enough for their insights and participation.
Forgive me for fawning, but the Paper Darts crew (Brian and Meghan included) is doing invaluable work for the arts and culture of Minneapolis-St. Paul. Keep in mind, they volunteer, and most of them have full-time jobs in addition to pouring their hearts and souls into Paper Darts.
I look forward to whatever they bring our way next.