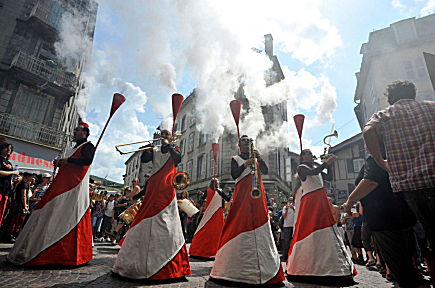 Fanfare Le Snob perform in the streets of Paris (photo from artist website).
At first blush, it looks spectral, ritualistic and esoteric. But dig a little deeper, and it turns out the performances of Fanfare Le Snob are intended to be anything but inscrutable.
Based in western France, Fanfare Le Snob is a professional company that has gained local, national and international recognition for its live shows. According to its website, Fanfare Le Snob is a group composed of musicians and comedians who are committed to the shared values of making art that's public, free and accessible to all.
Although they'll certainly march down the street on their own feet, the performers of Fanfare Le Snob are often mounted on Segways — those two-wheeled, battery-powered, one-person vehicles. Wearing long robes, the members of Fanfare Le Snob seem to drift effortlessly above the road surface, playing their instruments while moving in choreographed patterns.
And speaking of their instruments, those are notable, too: the sousaphone player's instrument is retooled to wrap around her body; the trombone player's bell is bent up and outward, like something in a Dr Seuss illustration. The repertoire is less Holst and Elgar than it is brass settings of Floyd and Zeppelin.
But written description takes us only so far; here are a couple videos from Fanfare Le Snob's Vimeo channel:
GLISSSSSSSSSENDO OPUS II version de jour from LE SNOB ET CIES on Vimeo.
GLISSSSSSSSSENDO OPUS II version de nuit from LE SNOB ET CIES on Vimeo.
A couple of dates in Montreal and in Quebec City are as close to Minnesota as Fanfare Le Snob have come this year. The videos above as well as additional finds on YouTube will have to suffice for now.
(H/T Andrew Cleveland)