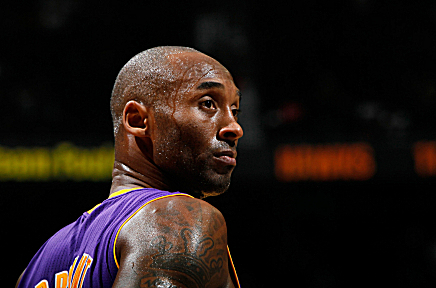 L.A. Lakers star Kobe Bryant, seen here in a game against the Atlanta Hawks (photo by Kevin C. Cox/Getty Images)
Basketball star Kobe Bryant has revealed his line of new shoes for Nike. They're called "Kobe 9 Elite Low 'Beethoven'". Nike says the inspiration for the shoes apparently came from the composer's Symphony No. 9 in particular.
Bryant himself has tweeted about his fondness for Beethoven's music, particularly his Moonlight Sonata:
Beethoven's Moonlight Sonata calms me down when I reach my breaking point #relaxandfocus pic.twitter.com/i2imK51p

— Kobe Bryant (@kobebryant) January 22, 2013
On a related note, Bryant has evidently appeared in a TV commercial for Lenovo, in which he plays Beethoven's Moonlight Sonata, but as of this morning, the video has been removed from YouTube.
This commercial, made for shoe seller Foot Locker, features Bryant appearing to build a piano:
Oh … the 'Kobe 9 Elite Low "Beethoven" shoes are due to be available in the U.S. starting Saturday, Aug. 16, with an estimated price tag of $200.