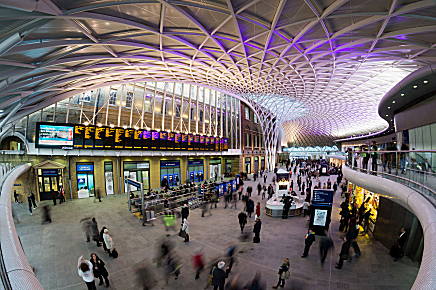 The western departures concourse of London King's Cross railway station (photo © User:Colin CC BY-SA)
In mid-August on the News Cut blog, MPR News' Bob Collins shared this video of a man playing a piano in a departure lounge at Prague's Václav Havel Airport:
The pianist in the video, Maan Hamadeh, was quoted by Lebanon's Daily Star, saying, "I would love to see pianos in all public place[s], especially those where the waiting factor is present."
Inside London's King's Cross/St Pancras railway station, there's a piano that gets a lot of attention. Here's a beautiful video by Richard Moore that captures a day in the life of that very public and very popular piano:
And finally, this piano seems just plopped along the side of the street in York, England. Despite what seems to be a chilly day when this video was shot, this boogie-woogie piano player is not slowed down at all — even though he appears to be wearing gloves!
What do you think of pianos in public places? Would you stop and listen? If you're a piano player, would you be inspired to stop and play? If so, what piece(s) would you perform?