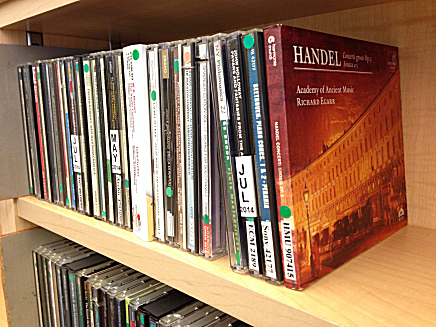 We have music on the stereo at home all the time, usually from CDs that I am auditioning (of which there are piles and piles). Yesterday, though, Lise was outside weeding, I was inside beginning to go through stuff brought back from my brother's house.
But we breakfasted together, in the glowing morning sunlight, to Messiaen's "Turangalila" Symphony — the new Finnish Radio Symphony recording on Ondine, with Angela Hewitt playing the important piano part — what music is more filled with joy and amazement?! A perfect accompaniment to nature's cheery brilliance.
Then followed an eclectic mix. Here's what we listened to:
Barone's Sunday Playlist
MESSIAEN: Turangalila Symphony … nothing could be finer! (Ondine)
TAFELMUSIK FAVORITES: Jean Lamon's picks as she retires from 33 years at the helm of one of Canada's most successful ensembles; I met Jean when she and some other Oberlin Baroque Performance Institute kids came out to play with my little Keith Hill harpsichord in one of the prototype concerts of the Chamber Music Society of Saint Cloud. She's done well since! (Analekta)
MOZART: Symphonies 38-39-40 in trio arrangements by Hummel … rather disappointing, I must admit, couldn't listen to more than a few minutes before finding something else (Naxos)
GLIERE: Symphony #3/Buffalo Philharmonic — a sprawling, lush, underappreciated score; Russian Mahler? (Naxos)
PERSICHETTI: Music for Violin and Piano, including a piece he never published that was discovered by the CD soloist, first recording; chewy music but worthwhile (Naxos)
HAYDN: Lord Nelson Mass/Boston Baroque … this one irritated me, sounding as though it was a competition for the most virtuosic and slick performance of the piece, lacking humanity, again I hit "[r]eject" soon (Boston Baroque)
YORK BOWEN: Phantasy Quintet for Bass-clarinet and Strings (and other chamber music) … what a beautiful thing! (Chandos)
STOKOWSKI conducts MOZART, with Philadelphia Orchestra on tour in Milan … they don't play this way today, but what soul! (and a wild cadenza in the 20th Piano Concerto) (Guild Music)
ROSSINI: Overtures/Prague Chamber Orchestra … perky background (Naxos)
Got through a lot of music on a beautiful Sunday.