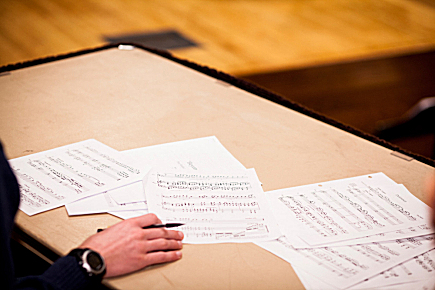 When people find out that I'm a composer, one of my favorite reactions is, "wait… people still do that?"
It's true! Not all of the music heard in concert halls was written by composers who have been dead for hundreds of years, though it certainly makes up the majority (by a wide margin) of what we hear. On occasion, audiences can also hear the music of the living.
There are some interesting numbers revealed by a recent analysis of the performance seasons of the 22 largest American symphony orchestras. Most notably, during the 2014-2015 season, 11.8 percent of the pieces performed by these 22 orchestras were pieces written by living composers (the most frequently performed living composer this season is John Adams, with 35 performances).
Though those numbers appear to be small, it does seem that audiences are becoming increasingly open and willing to try to connect with new music. The opening 30 seconds of the trailer for the film "(Untitled)" seems to capture the essence of the 'weird' music that audiences tend to be intimidated by (an interesting aside — this film was scored by Pulitzer Prize-winning composer David Lang):
What do you think? What's your reaction to opening up a concert program to find that you'll be hearing music written by a living composer?