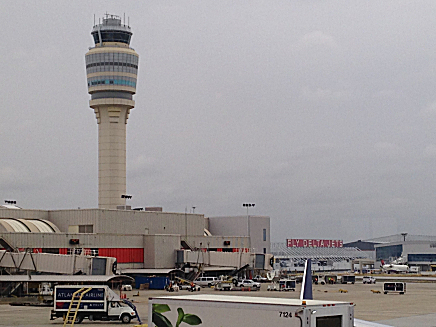 Hartsfield-Jackson Atlanta International Airport (MPR photo/Luke Taylor)
This week marks one of the USA's busiest travel periods of the year. According to statistics compiled by the U.S. Department of Transportation, during the six-day Thanksgiving travel period, the number of long-distance trips — more than 50 miles away — increases by 54 percent.
I won't be going anywhere at Thanksgiving, but I'm looking forward to seeing visitors from out of town. Due to a couple weddings at the start of October and of November, I paid my travel dues early; both weddings were a bit further afield, necessitating air travel.
Airports are rather fascinating places. The mass of humanity that moves through any major airport on a given day is astounding. For example, the Airports Council International reports that Atlanta International Airport saw almost 9 million passengers in July 2014 alone, the most recent month for which complete statistics are available.
But aside from hard statistics, airports represent a fleeting snapshot in time: At a given moment at an airport, all those hundreds or even thousands of people are in one place at the same time, seeing one another, interacting, bumping into each other; but fast-forward a few hours, and they're scattered around the globe.
With all those people gathered in one place — even if just for a few hours at a time — major airports resemble cities unto themselves. Atlanta's airport has an underground train that seems a counterpart to its citywide MARTA system; Minneapolis-St. Paul International Airport has restaurants with seating areas alongside concourses resembling sidewalk terraces; Chicago's Midway Airport largely eschews national restaurant chains in favor of local flavor, with food options like Gold Coast Dogs, Miller's Pub and Nuts on Clark.

And a city devoid of culture is not much of a city at all; thus public art has found its way into airports. Tampa International Airport features a series of restored WPA murals; MSP features aviation-inspired Snoopy statues; Atlanta has a gallery dedicated to artwork created by local youth. Chicago's O'Hare Airport even has an indoor garden from which its more foodie-leaning restaurants gather fresh produce.
Naturally, music is also part of that artistic landscape. Julie Amacher met a guitarist at the Portland (Ore.) Airport, and you can read about him and listen to his music on this week's New Classical Tracks. A few months ago, Bob Collins of MPR News shared this video of a pop-up pianist in a departure lounge in Prague. In October, Elena See found this video of a cellist and a beatbox artist collaborating on a piece by Bach while in flight.
Recently I discovered this video of some kids at O'Hare International Airport in Chicago, returning from a piano camp in Austria, entertaining fellow passengers between connecting flights. Notice the people capturing the moment on their smartphones, or the fellow at left enjoying a glass of white wine as the kids play; sure, the scene was recorded in an airport concourse, but it could just as easily have taken place in the center of a town.
So if you're traveling this Thanksgiving holiday, what music will you seek? If you're traveling long-distance by car or by train, what music will you bring with you? If by air, what music will you listen to in flight? What might you encounter at the airport? If you happen to come across something remarkable, please share it with us — Tweet it to us if you'd like, or tell us about it in the comments below.
Safe travels, and happy Thanksgiving!