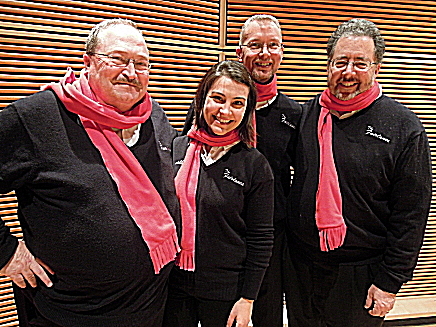 Abbie Betinis with The Fairlanes a cappella group. (MPR photo/Mike Pengra)
It's been another great week of content on Classical MPR's website; here are three items you may have missed, but you'll want to browse as you're enjoying some quiet time over the weekend:
Sad holiday songs need love, too
Come late December, not everyone is enchanted by Andy Williams singing about how "It's the Most Wonderful Time of the Year." That's certainly the case for author and cellist Edward Kelsey Moore. In his latest essay for Classical MPR, Moore writes about how his love for the melancholy Yuletide tunes began with a first-grade recital. Moore's essay is called "I'll Have a Blue Christmas, Thank You Very Much." It's a really good read; I think you'll enjoy it.
Listen to a brand-new carol
Abbie Betinis continues a tradition begun in 1922 by her great grandfather, Bates Burt. who would write a new carol each year at Christmas. For the past 14 years, Abbie has been kind enough to share and premiere her carol on Classical MPR. Hear what Abbie has written, and hear her perform it with vocal ensemble The Fairlines, right here.
An even deeper appreciation for music
Each Tuesday on Music with Minnesotans, I invite a guest into the studio to talk about his or her life along with his or her favorite music. This past Tuesday, my guest was Robert Ball, an EMS at Hennepin County. Bob embraces all that classical music has to offer — and he even shares how a piece by Mozart helps him when he is saving lives.
Have a great weekend!