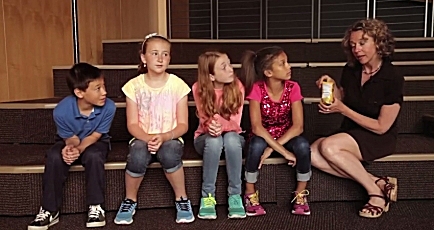 Scene from Class Notes video, "What to do at a Concert" (Classical MPR)
Wednesday's Class Notes video is all about how to behave at a concert. It brought to mind a number of examples of well-documented bad behavior in the concert hall, all of it tied to telephones.
First, this is really good! It's a story shared by Performance Today on its Facebook page, describing the time NY Philharmonic conductor Alan Gilbert stopped the orchestra, turned around and spoke to a person in the front row whose ringtone kept interrupting Mahler's Symphony No. 9.
Artistic Partner of the SPCO Christian Zacharias stopped in the middle of his Haydn concerto when a phone started ringing at the Gothenburg Concert Hall in 2013. A live concert is "the rare moment where our minds can focus on one thing," Zacharias says.
In this case, a Nokia ring tone at a concert in Slovakia inspires a little improvisation:
Even buskers get annoyed with the phones:
The funniest of all was captured in an article in The Mirror (London) in December 2001:
Conductor Jac van Steen tried to drown out the unmistakable sound and carry on with Johannes Brahms' Symphony No.4.

But the mobile not only kept ringing — it seemed to get louder.

Finally, frustrated van Steen threw down his baton, turned to the audience and shouted: "If that is my wife, tell her I'm not here." The phone's embarrassed owner switched off the device without revealing his/herself to the crowd at Manchester's Bridgewater Hall.

Van Steen turned back to the Halle Orchestra and resumed his performance.
This is what every one of us in an audience wishes would happen when someone snaps a picture despite being told, "Please, no photography." It's over the top but absolutely hysterical … and must have been humiliating for the poor audience member. But Patti Lupone doesn't put up with any monkey business.