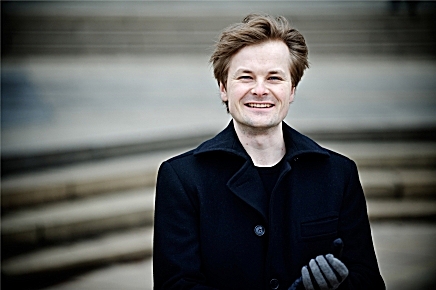 Håkon Daniel Nystedt is artistic director for the Oslo Chamber Choir (photo by Helge Lien)
Knut Nystedt, who passed away this week at the age of 99, left a lasting mark on the world of music. Meanwhile, Nystedt's grandson, Håkon Daniel Nystedt, continues his grandfather's legacy as conductor of the Oslo Chamber Choir (Oslo Kammerkor).
The Oslo Chamber Choir did a perfchat on Performance Today during my time with the program, and it became one of the all-time listener favorites of 2009 — people went wild for these elegiac Nordic songs, some of which were layerings of folk songs with other classical choral works (Bruckner, etc.). Asked about the lingering melancholy of these songs, Håkon Daniel Nystedt joked the emotion "is our speciality."
You can listen to the Oslo Chamber Choir's 2009 performances from Performance Today here:
PART I: Grieg and A Wedding March
PART II: Sheep herding songs and Rachmaninoff
One of the most beautiful works on the choir's 2012 CD Strid ("Struggle") is Håkon Daniel Nystedt's own arrangement of The Bridal March of Myllarguten.
The CD was featured on New Classical Tracks with Julie Amacher; you can also listen to the disc via Spotify: